Leading-Edge Testing & Investigations
Intrusive Testing
Community Reconstruction Solutions (CRS) understands the importance of proper procedures and documentation of intrusive testing a litigated property. The planning and execution of intrusive testing for before and during litigation is so specialized, CRS has developed an entire division dedicated to such testing and documentation.
CRS Intrusive Testing offers the following services:
SRT and Moisture Content
Building Envelope Testing
Window & Door Testing
Roof Testing
Civil Testing (including perimeter drain locates)
Complete Put-Back
Extensive Documentation
Fact and Expert Witness Testimony
Board of Director & Homeowner education and communication to ensure complete customer satisfaction
Attorney-reviewed document subpoena response
Intrusive Testing Team
CRS assigns a specific team dedicated to the entire project starting from the initial request to the final site walk. Your assigned team, which consists of a senior account manager, project manager, superintendent and trained reconstruction professionals, will work directly with the engineering and architectural experts to set up and conduct tests, complete all put-back and handle all communication with the community both directly with homeowners and public postings. This entire process is thoroughly documented. Reconstruction Experts provides a level of professionalism and expertise during this critical point in your case that you can count on.
Complete Water & Fire Restoration
Community Reconstruction Solutions in Burlingame, California, handles both fire and water restoration when your building is damaged from flames or flood. Find out more about how our team can help make your property like new again.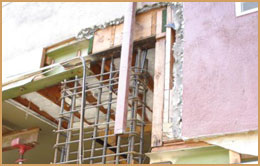 Waterproofing
Our staff specializes in protecting your building envelope (decks, basements, walls, roof, etc.) by using conventional water-resistant materials and techniques. This will strengthen your building's structure, producing less strain on materials.
Fire & Water Damage
You can't stop the unknown from damaging your property, but you can quickly recover should tragedy strike. We provide outstanding solutions and restoration services for losses from disasters such as severe storms, fires, pump failures, flooding, and similar issues.
Leak Testing Analysis
Evaluating leaks can be a rigorous process, but our team makes it easier. Using the best water testing methods and equipment, we find and fix the source of the problem before it becomes a bigger issue, both visually and financially.
Contact us today to schedule an appointment with our informative testing & investigations team. We proudly serve clients in Burlingame and areas within 100 miles, including San Francisco, San Jose, Oakland, Sacramento, and Santa Rosa.